Radstock Co-operative Society Director, Graham Jeffrey paid a visit to the Radco store recently to present a further cheque for £1,000 to Autistic Eye. This was the second donation during the year in which Radstock Co-op's membership voted to support Autistic Eye as one of their chosen charities for the year resulting in the cause being the benificary of a total of £2,100.
Autistic Eye is a social enterprise which provides opportunities for people on the Autistic Spectrum to sell their artwork and share their creativity in a positive way. The money made through the sale of greeting cards provides a supplementary income for the artists and continued employment for some. Jo Curd, founder of Autistic Eye said, "We have launched a range of cards for Christmas. These feature pictures; paintings, drawings and photographs, by five of our artists, all of whom have Autism or Asperger's Syndrome. We are thrilled and very grateful for the interest and tangible support which members of Radstock Co-operative have given to us. We are very excited that the store has agreed to sell these cards. This will provide an additional point of sale and, perhaps more importantly, another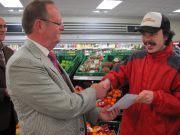 place where the skills and talents of these artists can be seen and celebrated.
Join with us in 'seeing things differently' this Christmas, come and see the cards and buy some for family and friends."
Radstock Co-operative was able to confirm that some of the greeting cards will be avialable to purchase at the Radco store from early December 2014. The Society has confirmed that all profits generated by the sale of the cards will be donated to Autistic Eye.
Vicki Przytocki said, "We are please to be able to support Autistic Eye in other ways in addition to the financial donations, by promoting their work in our Radco store and providing a retail outlet for their artistic work which helps to generate income."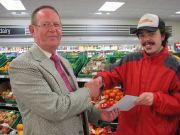 Autistic Eye was one of two causes voted on by Society members at their AGM in June 2014 to receive support both financial in terms of donations and also helping to raise awareness. For more information visit http://www.autisticeye.co.uk/.