One of the things that differentiates Radstock Co-op from most other retailers is that it is owned by its members. Members are usually customers of the Society and are given the opportunity to participate in democratic processes by voting in director elections and attending the Annual General Meeting (AGM) where other key decisions are debated and determined through the casting of votes. One such decision took place at this year's AGM held at the Radstock Working Men's Club on the evening of 17th June 2015 whereby members voted on which charities/good causes to support for the year.
Jane Harwood, Project Leader for 'Count Me In' submitted a bid for financial support earlier in the year and was pleasantly surprised when she received notification that 'Count Me In' had been selected as one of Radstock Co-op's charities of the year for 2015/16 following a members' vote at the AGM. Because 'Count Me In' offer music sessions for young adults with learning support needs, they really value the importance of being connected to their community through a local organisation such as the Radstock Co-op. Jane says ' our music groups are for people who enjoy challening, ambitious and fun approaches to music. We offer a cool place to meet up wth great support. This generous donation has come at an exciting time for us, as we have just started a new project called 'AllStars', funded by the National Foundation for Youth Music. We're delivering national priorities for live, inclusive music in our local area. You can find out more on our blog, heart-beatsmusic.blogspot.co.uk.'
'Count Me In' also runs a club for younger adults with learning disabilities including those on the autistic spectrum which is named 'Heartbeats'. The group uses the medium of music to encourage inclusiveness and to communicate through the combined efforts of their musical talents.
Jane invited Radstock Co-op director, Craig Doughty and Head of HR & Communications, Vicki Przytoki to attend one of the group sessions held at Wells Museum on 16th July 2015.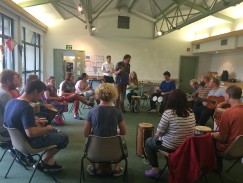 'It was great', Vicki said. "I was overwhelmed by the enthusasiam, energy and enjoyment being radiated from the group participants. And when Jane and Russ (who was leading the session) asked me and Craig to join and allocated percussion instruments to each of us, I wasn't sure that we would strike the right chord. But once we both picked up the rhythm, it was surprising how good it felt to be part of the composition. There were some very talented musicians and we were impressed with the way they quickly picked up the beat as Russ directed the group through several different styles and rhythms."
Vicki went on to say, "I know lots of retailers do their bit for the community but as a co-operative, we are able to involve our members in the decision-making processes which gives them the opportunity to vote on local causes and community projects which they feel passionate about. Like this one. The volunteers and support workers show such commitment and dedication to creating an environment from which all members benefit."
Craig presented the group with a cheque for £1,100 on behalf of Society members which marked the start of the year of support for the 'Count Me In' cause.
Craig commented, "We hope to be able to offer additional support and assist with raising awareness of Count Me In and Heartbeats in the coming year."