Following another successful year which delivered a 4.5% increase in sales to over £30 million and the opening of the society's sixteenth store in Trowbridge, the Radstock Co-op held a celebration evening to pay tribute to individual colleagues who had excelled in their roles and to teams whose combined efforts had delivered great performance.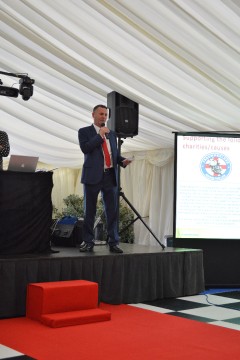 The proceedings unfolded with a welcome speech by Don Morris, chief executive of Radstock Co-operative where he gave an overview of the Society's achievements over the last year. He thanked colleagues for their commitment and hard work which had produced another strong year's performance. Don also tantalised his audience by revealing that the Society was near to completing a deal for another new store which, along with the opening of the Weston-Super-Mare store late autumn, will bring the number of stores to eighteen!
The evening was a held Oscar style, with the award categories and the names of all nominations appearing on the big screen before announcement of the winner. Winners were invited to walk the red carpet to the applause of colleagues and guests to be presented with their award trophy and prize by directors and senior management.
The event was held on 20th May at Farrington Park under marquee and attracted over 220 guests which included staff and their partners, directors, key business suppliers, sponsors and representatives from the chosen charities of the year. The two member nominated charities of the year, Freewheelers and SWALLOW, were each presented with a cheque for £1,000.
Thanks to the generosity of the Society's sponsors who donated some exceptionally high-value raffle prizes such as a top-of-the-range curved TV and a weekend in Devon, over £800 was raised for good causes.
The Society's growth strategy and ongoing strong performance ensures that it can continue to provide job opportunities, trade with local suppliers and contract local service providers, all which help to boost the local economy.
The Society celebrates 150 years of trading next year and is looking forward to another successful year in 2017!