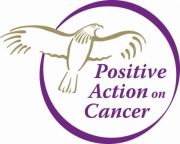 On Monday 10th November Derek Roberts, Director of the Radstock Co-operative Society visited the Positive Action on Cancer head office in Frome, to deliver a cheque for a donation of £1000.
L – R – Mary Taylor, Derek Roberts and Hannah Culff.
Positive Action on Cancer, who have been selected as one of Radstock Co-operative's charities of the year, have been the beneficiaries of numerous donations from the society in the past but this visit was particularly special.
PAC's Director Mary Taylor and Fundraising and Communications Manager, Hannah Culff had the opportunity to show Derek around the office and in particular around the children and young people counselling room. Mary provided Derek with an overview of the support that PAC provides to family members who are facing cancer and learning to cope with the emotional impact on daily life. Derek was also made aware of the many fund-raising events that PAC organise in order to provide much need financial support for the service including a sky-diving activity planned for 21st March 2015. Derek was impressed and moved by the work that PAC do to support families and agreed on the spot to sign up to PAC's first ever skydiving day.t.
Hannah Culff, Fundraising and Communications Manager from PAC said 'It was such an honour that Derek and another member of his team came to visit us at the office and their support means so much to us. For Derek to sign up to our skydiving day shows real commitment to our charity and also to the local community that we work with. We can't thank Derek and Radstock Co-operative Society enough'.
'I've always wanted to perform a sky-dive and this was all the inspiration I needed to sign-up for an activity that will give me the ultimate adrenaline rush but at the same time give me the opportunity to raise money for this very deserving cause. The work that PAC does is admirable which is why our members chose to support them as one of our chosen charities for the year'.
Positive Action on cancer believes that noone should face cancer alone and clients using the service often refer to it as a lifeline. PAC can only continue its vital work because of its support from the local community.
For more information on PAC visit www.positiveactiononcancer.co.uk or call 01373 455255.