What Is A Co-operative and What Does Being A Member Involve?
The Radstock Co-operative Society was established in 1868 and is a locally owned, locally managed consumer co-operative. The Society is owned and run by its members who benefit from the services the Society provides. Each member has an equal say in what the Society does. Rather than rewarding outside investors, a co-operative shares its profits amongst its members in the form of a 'Dividend'. The Society exists to serve its members, whether they are customers, colleagues or the local community. We believe that whilst members should be entitled to a share of the profits, we also need to provide sufficient reserves to ensure a sustainable future for members in years to come. The Society contributes significantly to the communities within its trading areas and is proud of the support provided, in terms of both financial grants and donations, and input and involvement.
Becoming A Member
Application forms for a Dividend card can be found at any of our Radstock Co-operative Stores. You can start using your card immediately by presenting it at the checkout point when making your purchase. Your card will be swiped by the checkout operator and your receipt will show the number of dividend points you have earned.
• You can earn points in any participating Radstock Co-operative outlets.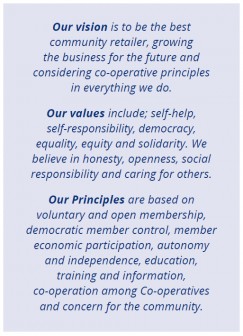 • Points can be earned on food purchases
• For every £1 spent on qualifying products, you will earn *1 point
Once you have been a member for 6 months and completed the qualifying period, subject to board approval, you will be eligible to participate in the democratic processes including director elections and attendance at the Annual General Meeting.
To secure your 'membership' you need to register your details (by completing the form), be over 16 years of age and have a minimum of £2 in a share account for a minimum period of 6 months. We will automatically debit the first £2 from your earned dividend (one time only) and transfer it into a share account in your name. If you haven't accrued the minimum £2 to qualify for membership, don't worry. We will save your 'dividend' until you reach the threshold, so the faster you spend the quicker you'll be able to reap the benefits of being a 'Society member!' You could even stand to be a director providing you have been a member for 2 years or more and have a minimum of £50 in your share account.