Celebrating International Women's Day with Claire Shaw, Head of Finance & IT @ Radstock Co-operative Society
To celebrate International Women's day, we caught up with Claire Shaw from the Senior Management Team.
I always loved numbers….. my brother is 2 years older than me, & I remember sitting with him and trying to do his homework rather than mine as his was more challenging. It wasn't until I chose Business Studies as an A-Level option that I realised that numbers weren't all about Maths and equations, they were about planning, and understanding risks and opportunities. I performed well at school, however I wasn't one of the pupils that were guided towards considering University as an option, but my parents were adamant I went to Uni and had they not pushed me it might not have happened.
I studied Accounting and Finance at the University of the West of England, Bristol, which included a 3rd year industrial placement, and I then trained and qualified as a Chartered Accountant with a top 10 audit firm. My Uni education was great, but it's not the same as hands on experience in the real world, which I experienced as an auditor.
Since qualifying I have worked in a range of sectors; financial services, health and social care, FMCG and retail. All amazing industries!
My role now:
Like a lot of local people, Radstock Co-op has played a part in my life. I used to meet Santa at Radco, and a trip to Norton usually involved popping into Style. So when a role was advertised with the Society I was immediately interested. Finance, and specifically commercial finance, is who I am, and I also seem to gravitate towards IT. My current role at the Society combines both of my interests & has brought a great opportunity to develop my skills & embrace the finance side of the role.
Why do you think it's important to support women's empowerment & gender equality?
Women and Men think, feel, operate, challenge, and inspire in many different ways. By opening up as many opportunities as possible to both genders, collaboration & diversity happens at every level, we as individuals and businesses will be in better position to succeed.
Why do we need more women in leadership roles?
A team can always deliver more than an individual, and a balance between Men and Women in that team will better reflect society than one that is biased to one gender or the other. We are not quite at 50:50… yet!
What progress have you seen on gender equality in your life & work?
I think the conversation has become more apparent and transparent, but it is difficult to say if there has been progress or not. I have been lucky with my career, there have been a good mix overall of men and women I have been fortunate enough to work with and call my colleagues, but I know others who have not had the same experience. I do think some inherent terminology and ways of working need to evolve, as it can be emotive for people who have had fewer positive experiences.
What advice/guidance would you like to pass on to other young women in the society?
Have fun; believe in yourself; if you have ideas and suggestions, share them; opportunities are open to everyone, regardless of your gender; try not to over analyse your thoughts and feelings; and if you feel you are not being treated fairly – report it!
What does International Women's Day mean to you?
It's nice to stop and pause and reflect on the inspiring women around us.
I look forward to a time when we no longer need an 'International Women's Day'.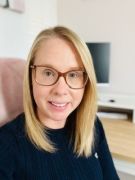 Senior Management Team.