Following the introduction of the 'Carrier Bag Charging Levy' in October 2015 which requires all shops to charge 5p for all single-use plastic carrier bags & to donate the sales-proceeds to good causes, Radstock Co-operative Society sought views from its members as to who should be the beneficiaries of the money raised from 2021.
'The Carrier Bag charging initiative has enabled us, the retailer, to determine which community causes should benefit. The Society received a number of suggestions as to where the funds should be directed. In the current economic climate, & with our Society values & principles in mind the aim of this donation is to empower & educate the local community to become self-reliant whilst ensuring they have access to essential food supplies,' Don Morris, CEO of Radstock Co-operative Society.
We are delighted to be able to make a significant donation totalling £25,000 to the following:
Highbridge & Burnham-on-Sea Local Pantry, The Sydenham Pantry, Friends of Grove Park, Swallow, Writhlington School, Crispin Community Centre, Rockaway Park Community Forest Garden, Willowdown Primary School, The Volunteer Network's Growing Happiness Sessions, Shared Earth Learning, The Mendip School, Feed Avalon/ EAT Project, The Food Forest Project, The Walled Garden @ Mells, The Nelson Trust- Somerset Women's Centre, The Trussell Trust, Avanti Schools Trust Primary School, Seed of Hope, The Huntspill Primary Academies, HAMP Pantry, The Rosary Nursing Home.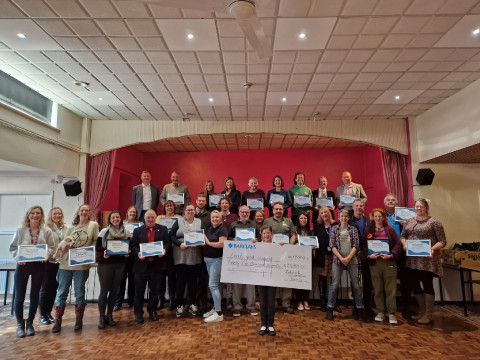 'The Trussell Trust supports a nationwide network of 1300+ food banks to provide emergency food and practical support to people facing hunger. Together, they're working towards a future where everyone can afford life's essentials. The donation means the charity can remain agile in the challenging circumstances, to ensure that food banks continue to provide the lifeline of emergency food and additional support for people facing hunger, whilst also moving forwards with important work to tackle root causes of poverty and campaign for long-term change,' Penny Russell from The Trussell Trust.
'Thank you so much the donation will make a massive difference, we will be able to work on changing an underused area of the park into a community gardening area. This area is one of the few pieces of flat unused land in the park so it will be great for people with mobility issues. We will need to create a path and make planters, so this money will really help support that work. It means we can be more inclusive in the volunteering opportunities we offer. In terms of what we do; Friends of Grove Park works to improve Grove Park, for local residents, promoting biodiversity and sustainability. We offer outdoor volunteering to support wellbeing and the development of skills and to connect with as many community groups as possible. We encourage the use of the park and general outdoor activity through projects, workshops and events,' Natalie Donbavand, Friends of Grove Park.
"We are thrilled to have been chosen to receive this donation - it means so much that members of the community have thought of us in this way". A donation towards our gardens will be put to good use as we are trying to get our school garden back into good shape after it was not able to be used during the covid pandemic. We will buy seeds and plants as well as some new tools for the children in the club to use. Our Before School club will use some of the donation to buy games as these are always needed and the children will really enjoy having some new activities each morning,' Mrs Emma Larkham, Head Teacher at Castle Mead School.
Special thanks to Radstock Working Mens Club for letting us use the Ballroom.