Long standing members of Radstock Co-operative Society, Bryn & Teresa Hawkins have celebrated 60 years of marriage. Our CEO, Don Morris & the Society's president of the Board of Directors, Graham Jeffery visited the couple at their home to present them with an array of gifts from Radstock Co-operative Society to honour the special occasion.
Bryn & Teresa met in Timsbury with their first date at a fair ground at Odd Down. Saturday evenings were spent in Coleford at the British Legion enjoying listening to the live bands that played there - rock & roll music being their favourite to dance to. Their wedding took place at the church in Radstock with the reception at the Scouts Hall on Wells Hill. They initially made Radstock their home before moving to Camerton & have two children, Peter & Kay, who also live locally. Bryn & Teresa enjoy spending time with their grandchildren Poppy, Otis, Lucas & Louie. 'An important part of our lives is not only our family which is very supportive, but our circle of friends who over the years have been tremendous - nothing is too much trouble for them, especially over difficult times with illness that we have been through over the past year'.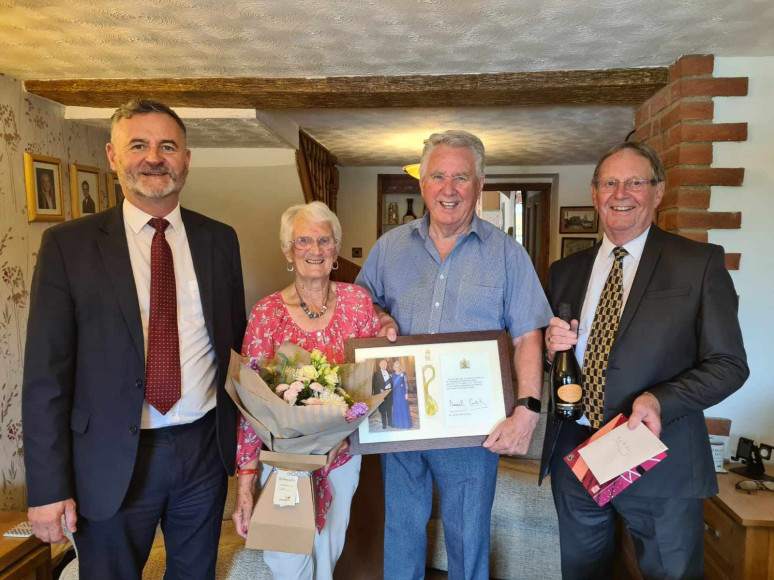 When asked what the secret to a long happy marriage was, Bryn & Teresa answered, 'Our Secret is we are good friends & have always enjoyed one another's company'.
Congratulations to Bryn & Teresa from all of us at Radstock Co-operative Society.