Plans are well under way to transform the Radstock Superstore to improve the environment and ultimately improve the customer experience. Recent shoppers to the Radstock Superstore will have seen the new café which has moved to a prime location at the front of the store. The café has been designed to reflect a more contemporary look and boosts a relaxing area comprising of comfortable sofa seating with low level coffee tables to complement the familiar dining area layout. Diners can enjoy a meal whilst overlooking the Radstock Town centre viewed from the large panoramic windows that have now been opened up as a result of the refurbishment. The café caters for all needs whether you're looking to enjoy a cappuccino and cake with friends or a more substantial meal. The café is also child friendly with high-chairs and meal options for our younger visitors.
The second phase of the refurbishment was to relocate the Travel Department to the site of the old coffee shop at the car park entrance to the store. The new look Travel department is light and spacious and incorporates a Bureau d'exchange (soon to be operational). Look out for the latest in deals whether you're looking for a holiday of a life-time, a weekend break or a fun-packed family vacation. Finishing touches are still being made to both the Café and the Travel departments.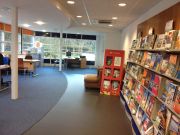 The next phase in the Radstock store's refurbishment plan is to relocate some of the fashion departments to allow for extensive work to be undertaken to improve the food hall. This has resulted in the relocation of many fixtures and product ranges which will undoubtedly impact on our customers. We apologies to our customers for any inconvenience caused and ask that you seek out a member of our friendly team if you require any assistance.
We will provide regular updates on the refurbishment project on the 'news' section of our website